Before my Washington trip, I never used AirBnB but I've always heard great things about it. Since I was trying to be money savvy I decided to try them out. I was going to be staying in someone's house I did not know for a week, so my goal was to find places I would feel the most comfortable staying at. Here are some helpful tips on how I booked my AirBnB's: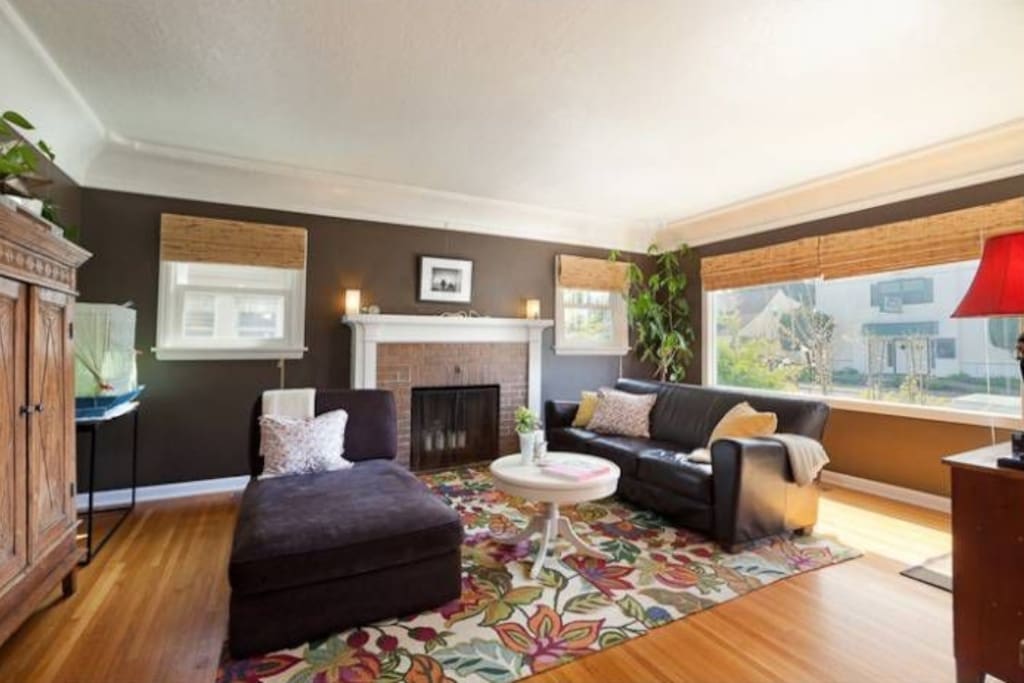 Portland, Oregon: Bungalow
Find AirBnB's that have a fair amount of reviews.
I wanted to stay in a place that many people have already experienced so reading reviews were very helpful in narrowing my search. If I was traveling with friends or a significant other, then I wouldn't mind trying out new AirBnB hosts, as this would help them gain more reviews and receive more stays.
Read the reviews!
Just because an AirBnB host has many reviews, doesn't mean they are all necessary good experiences. Be aware of the pros and cons people write of their stay to decipher if that's the right place for you.
Look on the map where the AirBnB is located
The first AirBnB I booked was about 30 minutes away from Seattle. Yes I did have a car, but I definitely would have liked to book a place closer. I did not check the map of where it was located beforehand, so now I learned from that mistake and view the map before the listings to help narrow down my options.
Send a warm and friendly message to the host 
Hosts write reviews of the people that stay at their place, just like customers write reviews of their visit. Since this was my first time booking, my profile had no reviews at all. Before I booked any places, I contacted the host introducing myself, my reason for visiting and why I would like to book with them. I received a warm and welcoming response back from them and the majority pre-approved my booking. You don't always need to be approved for a booking. Some you can just book immediately but I prefer to introduce myself first and the hosts appreciate that as well.
Chehalis, Washington: Bed and Breakfast
Staying with a female host
Since I was traveling by myself I felt comfortable staying at an AirBnB where the host was a female or a couple. Now, this is just my personal preference, I know others would be just fine booking with any type of host but I wanted to feel safe and have peace of mind since it was just me. If I was traveling with friends or a significant other, then the type of host wouldn't have mattered.
Give an estimated time of arrival to your host
When traveling, it is sometimes difficult to let the host know the exact time you will be arriving, but giving them a time range is very helpful for them to get your room ready and prepared for your arrival. Be courteous.
Read all of the information about the place you would like to stay
Hosts have different rules and regulations that ensure you have an enjoyable stay at their place, so make sure you are full aware of them. This way you won't be surprised as to why your host is upset that you are having a party at 2AM, when the booking clearly states no noise past 10PM.
Leave a review!
After your stay, leave a review for your host. This will help others who are searching for a great place to book, as well as letting the host know how your experience was.
Before hitting the " booking" button, make sure this is the place you would like to stay at. 
Hosts have different cancellation policies. Some are strict, while others are more lenient. Either way, the majority of the time the AirBnB fee is not refunded if you cancel your stay. It's a small fee, usually under $10, but that could have been applied to your lunch, gas or snacks. I do think there's a policy where you can be refunded up to three AirBnB fees a year, if the host approves it. Kindly ask the host if it's possible.
Favorite AirBnB's
If you are driving from Seattle and would like to see Mount Saint Helen on the way to Portland, I recommend staying in this true bed and breakfast just off the highway in Chehalis, Washington. When I arrived, she welcomed me with delicious Yakima cherries, and in the morning made me a scrumptious and fulfilling breakfast! When staying in Portland, this adorable bungalow is the ticket. It's quaint and cozy and I have to say the bathroom is my favorite! 🙂
Hope these tips are helpful! Please comment below if there are additional tips I missed!
If you would like $40 towards your next AirBnB trip, click here!